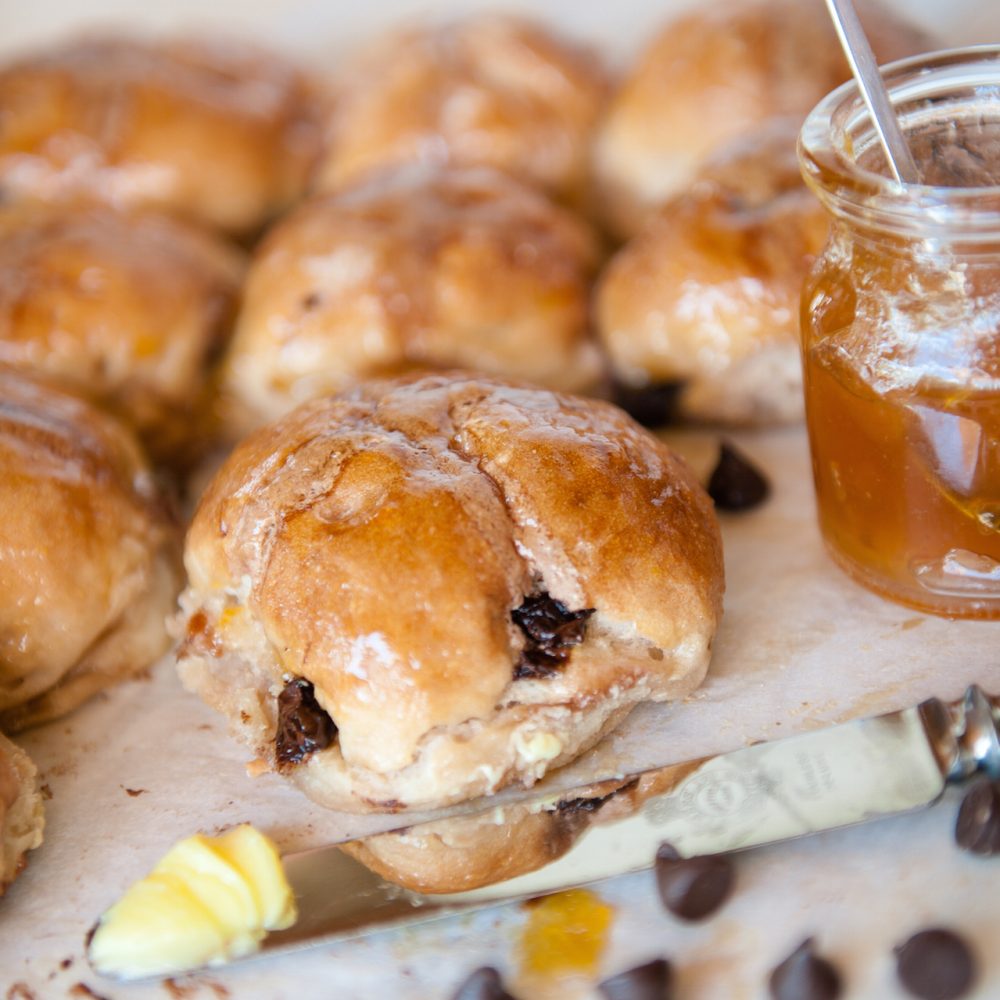 Gluten-free baking can be hard to master, but at Easter time you can't miss out on a hot cross bun. This gluten-free hot cross bun recipe includes some sneaky chocolate chips to give a little Easter flavour to your baking. You can swap them for dried fruit if you prefer, and simply use flour and water for the cross. 
GLUTEN FREE CHOCOLATE HOT CROSS BUNS
Prep: 5 mins
Cook: 1hr 20 mins
Makes: 10 buns
Ingredients
Buns
1 packet 330g Simply Wize crusty bread mix* (includes yeast sachet)
400ml of lukewarm water
2 tablespoons of caster sugar
1 tablespoon of olive oil
50g dark chocolate chips
extra gluten free flour for dusting benchtop
Cross
50g gluten free plain flour
1 teaspoon of cocoa, sifted
150ml of water
Glaze
100g of apricot jam
1 tablespoon of water
Method
Tip the yeast sachet into a bowl and pour over the 400ml of lukewarm water. Let stand for 2 minutes.
Place the bread mix and the sugar into your electric mixer bowl with a dough hook and add a tablespoon of olive oil and the yeast mix.
Mix for 1 minute on a low speed, scrape down sides and mix for another 3 minutes on medium to high.
Add chocolate chips and mix on medium speed for another minute.
Scrape down the sides and make sure all the flour is incorporated. The mixture will be quite wet but that is fine.
Place the bowl in a warm, draught-free place (near a preheating oven) with a tea towel on top. It might be warm enough to just leave on the bench. Allow to rest for 5 minutes.
Dust the bench top with gluten free flour, tip mixture on to the bench and, using a sharp knife or pastry cutter, cut into 10 equal sized pieces.
Flour your hands and roll each piece into a ball. Place on a baking sheet lined with baking paper. Place about 2cm apart.
Cover with a damp tea towel and place in a warm place until they almost double in size (about 30–40 minutes).
About 10–15 minutes before they have finished rising, preheat the oven to 200ºC.
Make the cross mixture by mixing the gluten free flour and cocoa together, then add the water and whisk to make a smooth paste.
Pour cross mixture into a snaplock bag or piping bag.
When the buns have risen to twice their size, cut the corner from the snaplock bag and pipe cross mixture onto the buns.
Place buns in the oven, and put a second baking tray below the buns with 2 ice cubes to create some steam in the oven. Bake buns for 20–25 minutes or until golden.
Remove from the oven. Combine apricot jam and water and heat in the microwave or on the stove for about 20 seconds to make the glaze.
While buns are still warm, brush the glaze onto the tops of the buns with a pastry brush.
Serve warm with butter.
Available in Woolworths, IGA supermarkets or online at simplywize.com.au.
Get the PlanBuyCook meal planning app to master everyday dinners. Available for iPhone and iPad here.