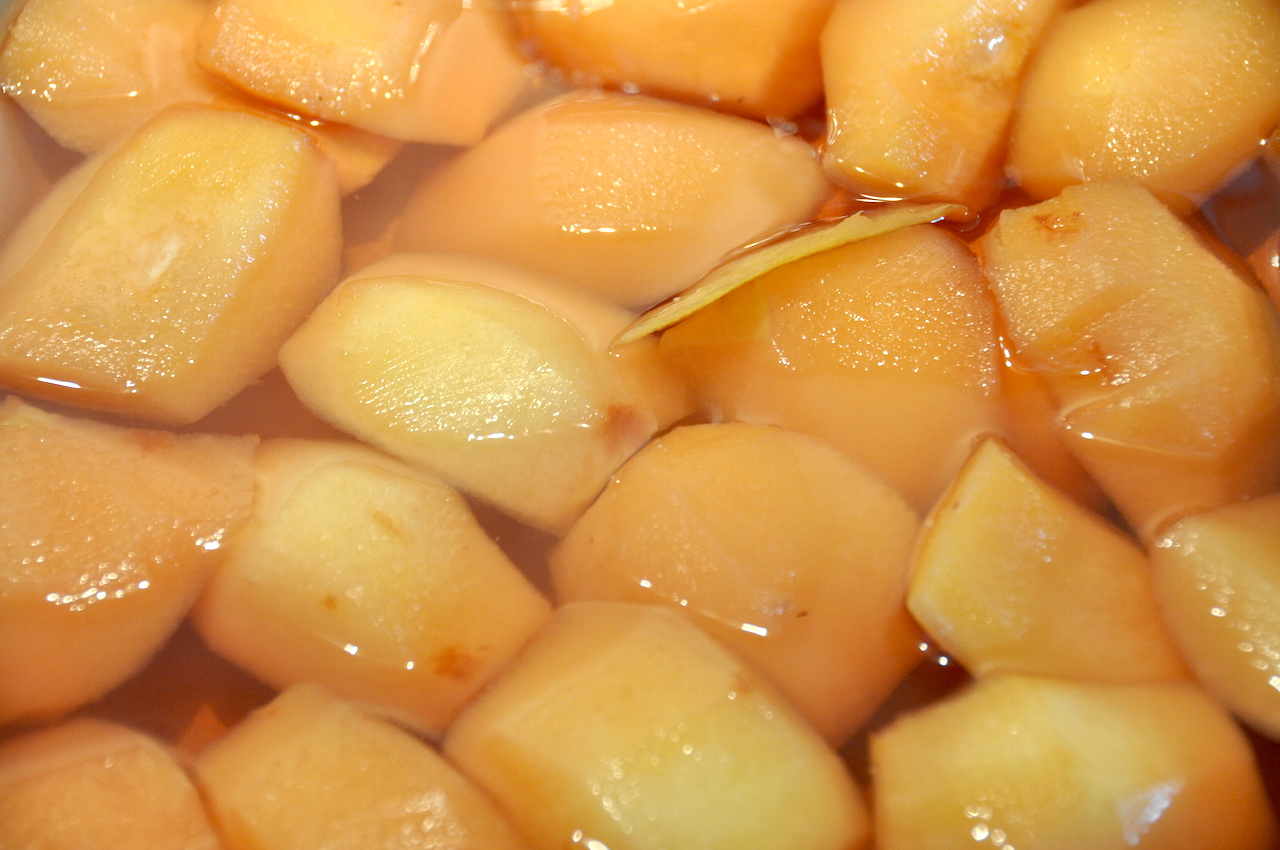 Quince season is coming to an end in Australia, and now is the perfect time to poach them or make quince paste. Great in crumbles or served with custard or ice cream for a quick dessert. The Owl and the Pussycat dined on slices of quince (which they ate with a runcible spoon). Here PlanBuyCook shows you how to poach quince to perfection so you can dance by the light of the moon.
POACHED QUINCE
Prep: 2 minutes
Cook: 2 hours 30 minutes
Serves: as many as you like for as long as you like
Ingredients
1 lemon, juiced plus a slice of peel
quince fruit
sugar (equal to the weight of the peeled and quartered quinces
1 vanilla bean
Method
Preheat the oven to 160ºC.
Squeeze the lemon juice into a bowl of cold water.
Wash all the quince to remove the fur. Peel and core the quince, cut into quarters then place into the bowl – this prevents them discolouring.
Once complete, weigh the quartered fruit (without liquid) to determine the amount of sugar.
Place the quince into a baking dish, and top with an equal amount of sugar.
Add cold water until the quince are just covered and stir to help dissolve the sugar in the water.
Split the vanilla bean and scrape out the seeds. Add vanilla seeds and the pod to the water, then add the lemon peel.
Place baking paper and foil on top of the baking dish, and bake for 2 hours.
Remove from oven and check the fruit is soft.
Strain off the liquid into a saucepan and simmer until the liquid is reduced by half.
Meanwhile, place the fruit into sterilised jars.
Once reduced, pour the hot liquid over the fruit to cover and then seal with a lid.
Store in pantry until ready to eat.
Need some dinner inspiration? Check out the PlanBuyCook app at www.appstore.com/planbuycook.