Today we look at curly kale and wonder what all the fuss is about. To juice or bake? That is the question. This leafy member of the cabbage family is now everywhere. So what can you do to get on board the trend?
Kale is a member of the new brand of 'superfoods' as it is packed with vitamins. It looks quite a bit like silver beet, and is doing its bit to bring cabbage back into fashion. Its sister is cavolo nero (also known as Tuscan kale) which has also come into vogue.
The key is to remove all the stalk prior to cooking. I first ate kale served as chips. What's not to like? Every vegetable tastes good tossed in olive oil, salted and then baked. My first attempt at cooking kale chips ended with some charred black leaves that the kids munched on politely but pointed out was probably not my best effort.
I have friends regularly serving up kale smoothies to the whole family on a daily basis, although I have read recently that there can be too much of a good thing. Too many kale smoothies could induce hypothyroidism – so everything in moderation.
SAUTEED KALE 
Great as a side dish or even as a pasta sauce with parmesan.
Ingredients
½ bunch of kale or cavolo nero (yields about 100g of picked leaves after removing the stalk), stalk removed and roughly chopped
1 pinch of salt
1 tbsp of olive oil
1 clove of garlic, crushed or grated
½ onion, finely diced
2 anchovy fillets
20g of breadcrumbs, fresh or dried
salt and pepper to taste
Method
Put a large saucepan with water on the stove and bring to the boil.
Add kale or cavolo nero and salt to the pot and cook for 5 minutes.
Drain and set aside.
In a frypan, heat the oil and cook the garlic and onion for 2–3 minutes.
Make a paste with the anchovy fillets using the back of a knife, then add to the onion mix.
Add breadcrumbs and stir until golden and crisp.
Tip breadcrumb mix into a serving bowl large enough for finished dish and set aside.
Add the cooked kale to the frypan to cook off any excess liquid.
Add the kale into the breadcrumb mix and toss to combine.
Adjust seasoning and serve.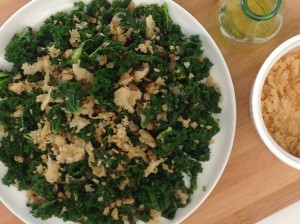 Do you love or loathe curly kale?