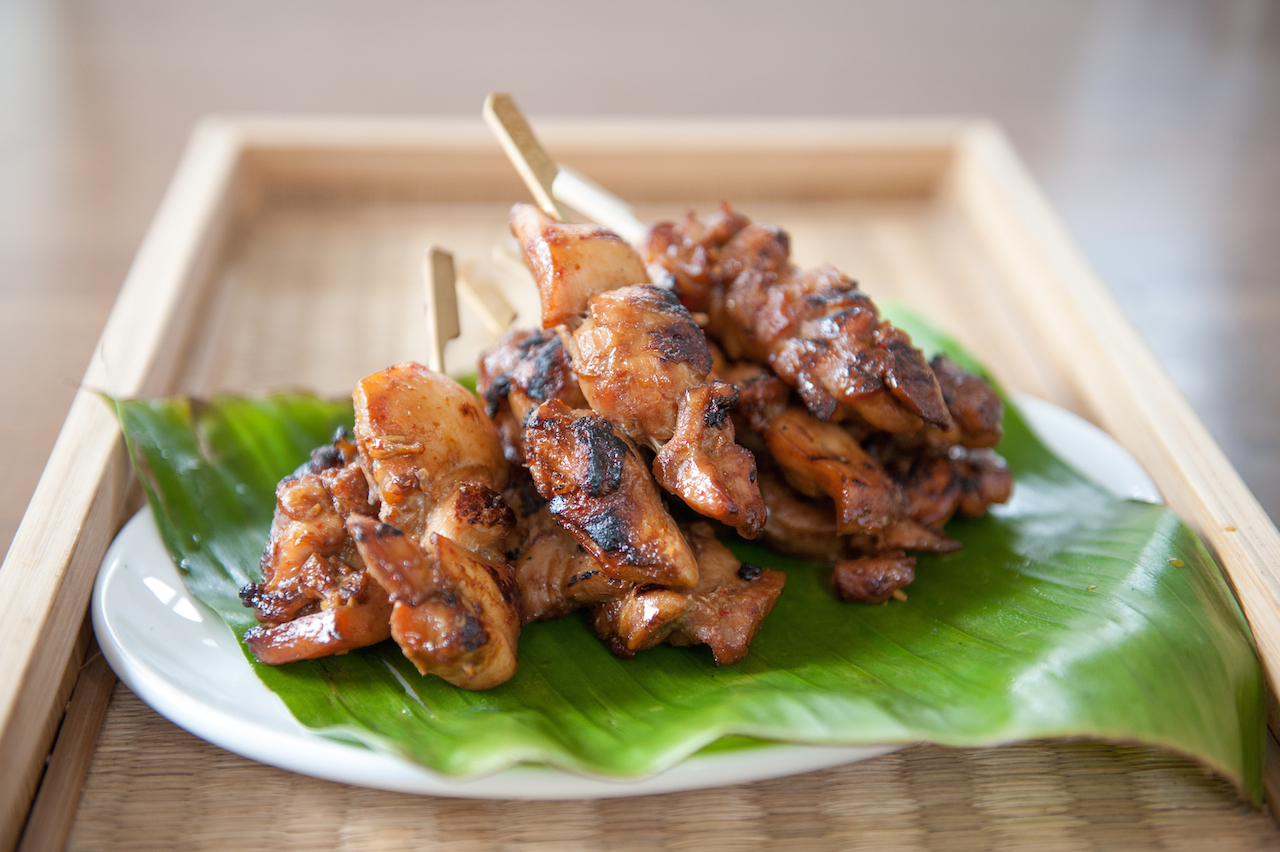 This super tasty nut-free take on chicken satay is fantastic for any barbeque or as a mid-week meal. You can leave out the dipping sauce if you want a super fast meal too. 
CHICKEN SKEWERS
Serves: 4
Prep time: 20 minutes plus marinating time (overnight or at least 4 hours)
Cook time: 30 minutes
Ingredients
bamboo skewers / satay sticks
1 stick of lemongrass
10g of red curry paste
2 cloves of garlic
60ml of soy sauce
40g of brown sugar
600g of chicken thigh fillets, diced
Dipping sauce
10ml of light soy sauce
80ml of white vinegar
60g of caster sugar
60ml of water
½ red onion, diced
1 lebanese cucumber, diced
1 tbsp of ginger, matchsticks
5 sprigs of fresh coriander, picked and washed
½ red chilli finger size (optional), sliced
rice of your choice, steamed OR vegetables or salad
Method
Soak bamboo skewers in water for 20 minutes.
Remove outer layer from lemongrass. Cut a 3cm / 1 inch length from root end and keep. Discard the rest. Cut retained set ion lengthwise then finely dice.
Mix the lemongrass, curry paste, garlic, soy sauce and brown sugar in a bowl. Add the chicken to coat and thread onto skewers. Pour remaining marinade over the top and refrigerate overnight or for a least four hours.
If serving with rice, boil or steam rice as per packet instructions.
Heat the BBQ or a grill plate on your stove to dry hot. Rub the plate or BBQ bars with a little oil and some paper towel. Cook chicken satay sticks until cooked through (about 4–5 minutes a side).
Transfer to a warm plate, cover with foil and rest for 10 minutes.
To make the dipping sauce, place the light soy sauce, vinegar, sugar and water in a small pot and heat over a low heat until the sugar dissolves. Remove from heat.
Place the red onion, cucumber, ginger, coriander and chilli in  bowl.
When the dipping sauce liquid has cooled, pour it over the cucumber mix. Stir and set aside.
Serve chicken satay sticks with dipping sauce, rice and salad or vegetables of your choice.
TIP
Double the base ingredients (excluding the dipping sauce) and freeze the other half for use at a later meal.
Run out of dinner inspiration? Check out the PlanBuyCook iPad app. You can scale every recipe from one to ten serves.