These lovely little Brutti ma buoni are perfect for using up extra egg whites. Their poor name belies the fact that they taste divine. The translation for these Italian treats is ugly but good. Great served with tea and coffee, or as an after-dinner treat. These gluten-free biscuits are also nice packaged as a Christmas dinner gift. 
BRUTTI MA BUONI
Prep: 5 minutes
Cook:
Makes: 18–24 treats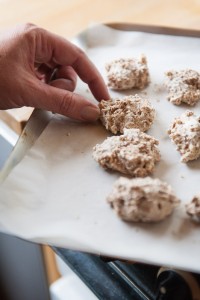 Ingredients
50g / 2 oz of dark chocolate
⅔ cup of almond meal
2 egg whites
1 pinch of salt
½ cup of caster sugar / superfine sugar
Method
Preheat the oven to 150ºC / 300ºF / Gas mark 2. Line two baking trays with baking/parchment paper.
Using a hand-held grater, grate the chocolate then add the almond meal to the chocolate and set aside.
Combine the egg whites and the salt and whisk using electric stand mixer/beaters until they form soft peaks.
Gradually add in the sugar and continue whisking to form stiff peaks.
Fold in the chocolate and almond mixture using a spoon.
Using two spoons, scoop up a tablespoon-sized serving of the meringue mixture and then use the other spoon scrape it onto the baking paper. Leaving around 3–4 cm / 1–2 inches between the biscuits, continue placing spoonfuls onto the two baking sheets until all the mixture is used up. They don't need to be nicely shaped, hence their name.
Place trays in the oven and cook for 20 minutes, then turn off the oven (opening the door of the oven slightly) and leave to cool in the oven overnight or for 1–2 hours.
Store in an airtight container until ready to serve.
For meal ideas that are anything but ugly, download the PlanBuyCook meal planning app.