This great homemade lemonade recipe is so easy and yummy. Cool down on a hot day with your own cool drink. The kids can even make their own lemonade stand and sell this great drink to their friends. 
HOMEMADE LEMONADE
Makes: 1 litre
Prep: 5 minutes
Cook: 2 minutes
Ingredients
6 tablespoons of caster sugar
3–4 lemons, juiced
1 litre of sparkling mineral water (or tap water)
Method
Place the sugar into a large jug.
Put a strainer on the top of the jug and pour through the lemon juice to remove the seeds.
Using a spoon, stir the sugar and lemon juice until the sugar dissolves.
Add the mineral or tap water, and stir to combine.
Serve with ice cubes.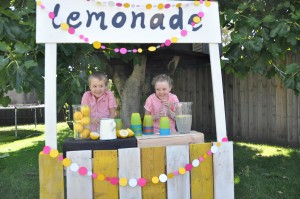 TIP
There are heaps of great activities involved in making a lemonade stand. Kids can make their own bunting, or, with help, their very own stand. We used old floor boards attached to a frame that sat on the edge of a camping table. Use masonite or plywood for the banner.