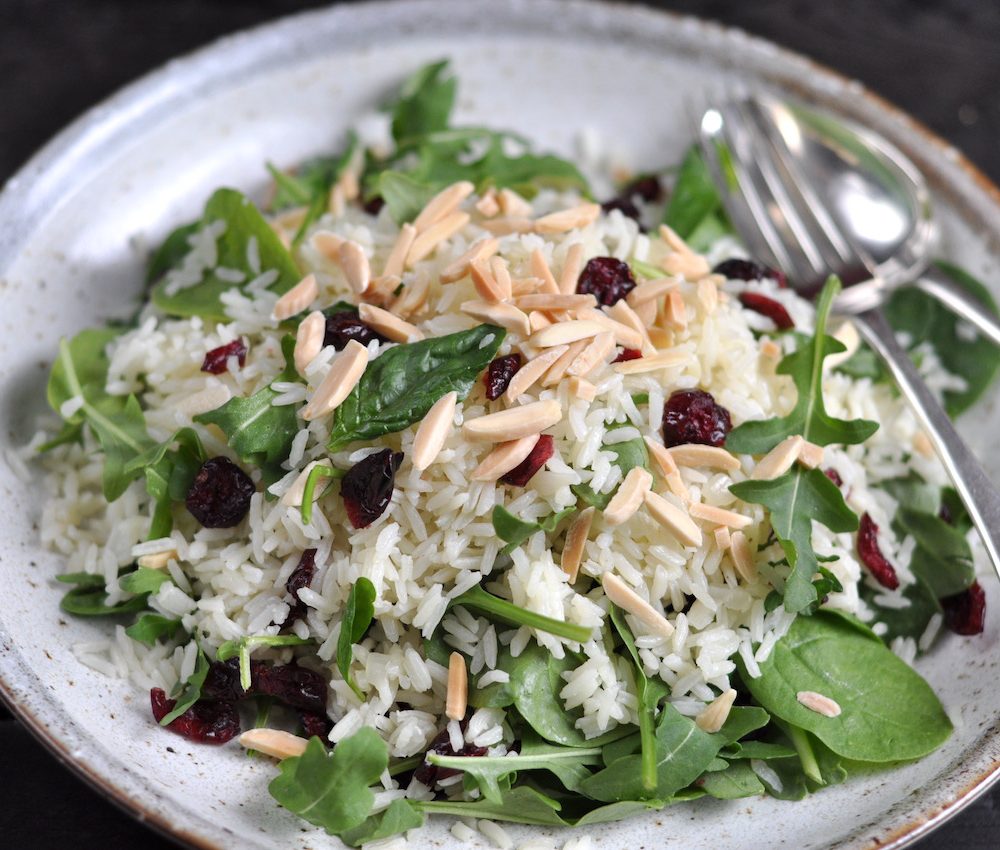 This rice and cranberry salad is a perfect Christmas Day offering, made festive with the red of the cranberries and the green of the loose leaf salad. We recommend making it on the day and serving it at room temperature. 
RICE PILAF SALAD
Prep: 10 mins
Cook: 30 mins
Serves: 8–10
Ingredients
30g of butter
2 onions, finely diced
4 cups of vegetable stock
3 cups of basmati rice
1 cup of dried cranberries / craisins
1 lemon, tested and juiced
80 grams / ½ cup of slivered almonds
8 sprigs of flat leaf parsley, finely chopped
2 cups of baby spinach, washed and spun
2 cups of rocket (arugula), washed and spun
salt and pepper
Method
Preheat the oven to 120ºC / 250–F / Gas mark ½.
Place the butter and onions in a large saucepan and cook until translucent.
Add the rice to the onions, and stir to coat. Then add boiling vegetable stock, bring to the boil. Top with foil and a lid, and cook for 12 minutes on low heat. Turn the heat off after 12 minutes, and allow to sit for a further 5 minutes with the lid still on. Tip into a bowl.
Toast almonds in oven for 10 minutes, or until golden while waiting for rice to cool. When the rice gets to room temperature, add the other ingredients: cranberries, lemon juice, lemon zest, parsley, almonds, spinach and rocket (arugula) and toss.
Adjust seasoning and serve.
TIP
This salad is best served at room temperature, not out of the refrigerator. Bring to room temperature if cooking in advance.
PlanBuyCook is the meal planning app you've always wanted. Dinner done. Download it from the App Store.
Join our Dinner Done Challenge to get your meal planning sorted. It includes a free printable meal planner and shopping list template, recipes, tips and know-how to get you from zero to meal planning hero in just 25 days.