A banana smoothie is the perfect after-school for kids or mid afternoon snack for adults. Packed with calcium and potassium, this will fill you up until dinner.  If you are dairy intolerant, omit the yoghurt and milk and serve as ice-cream, or replace with soy milk. Freeze your ageing bananas peeled or unpeeled once they have gone past the edible stage in the fruit bowl.
BANANA SMOOTHIE
Prep: 2 minutes
Cook: 2 minutes
Serves: 2
Ingredients
2 frozen ripe bananas (the riper the better), peeled
1 tbsp of honey
2 tbsp of natural yoghurt
1 cup of milk
4 large ice cubes
Method
Chop bananas into chunks to allow for easier blending.
Place bananas, honey, yoghurt, milk and ice cubes into the blender.
Pulse to break up the ice and the banana, then blend on high until thick and smooth.
Serve in tall glasses, and remember to wipe off the smoothie moustache at the end!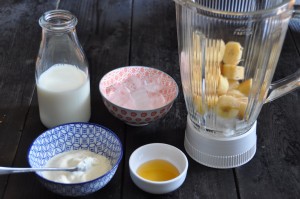 TIP
When mangoes are in season, use them instead of the bananas, or use frozen berries if you have them in the freezer.