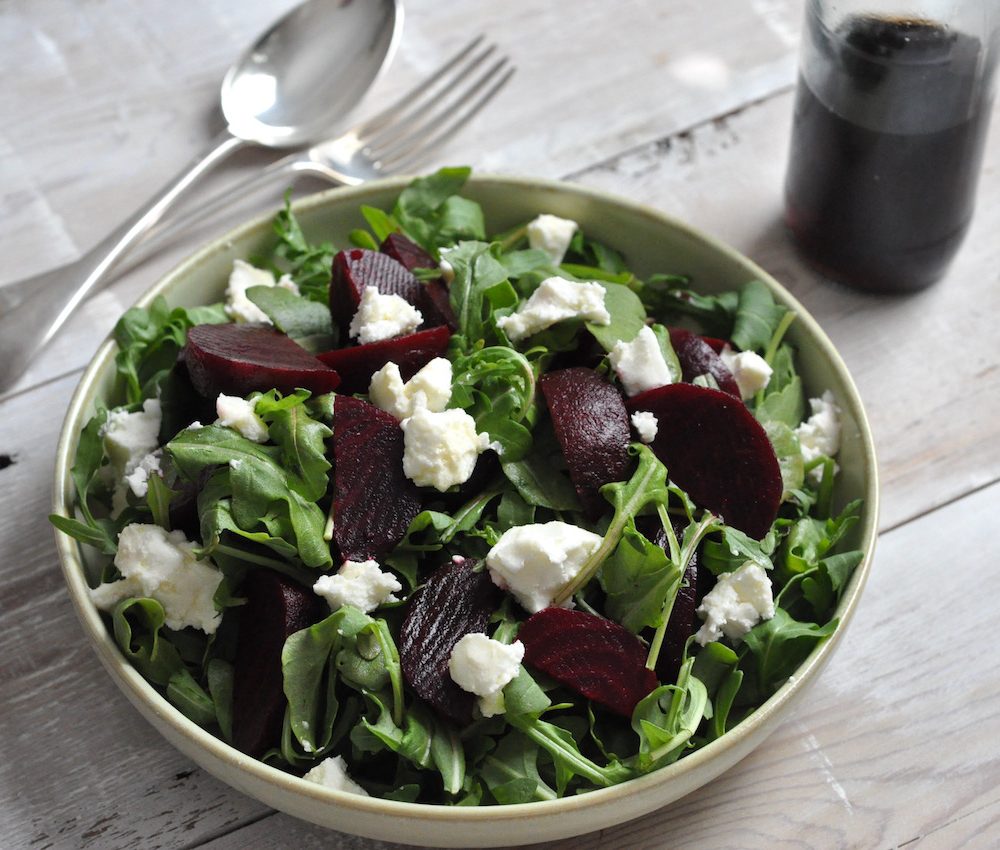 This beetroot salad is quick to make and only needs a few fresh ingredients and some pantry staples. You can buy the peeled and cooked beetroot in the refrigerator section of the supermarket, which saves your hands from staining too. Or you can cheat with tinned/canned baby beetroot if you are really pressed.
BEETROOT SALAD
Prep: 5 mins
Cook: 5 mins (unless cooking the beetroot – add 40 mins to an hour, depending on size)
Serves: 4
Ingredients
4 cups of rocket / arugula leaves, washed and dried
4 whole peeled cooked beetroot, quartered
100g / 4oz of feta
4 sprigs of fresh mint
1–2 tbsp of balsamic vinegar
1–2 tbsp of extra virgin olive oil
sea salt
Method
In a bowl, place rocket, beetroot, feta and mint.
Add balsamic vinegar and olive oil, and a sprinkle of sea salt.
Toss gently and place on a serving platter / plate and serve.
TIP
A great salad to accompany lamb, or served with other salads as a light meal.
Join our Dinner Done Challenge to get your meal planning sorted. It includes a free printable meal planner and shopping list template, recipes, tips and know-how to get you from zero to meal planning hero in just 25 days. 
Make dinner dilemmas a thing of the past with the PlanBuyCook meal planning app, available here.