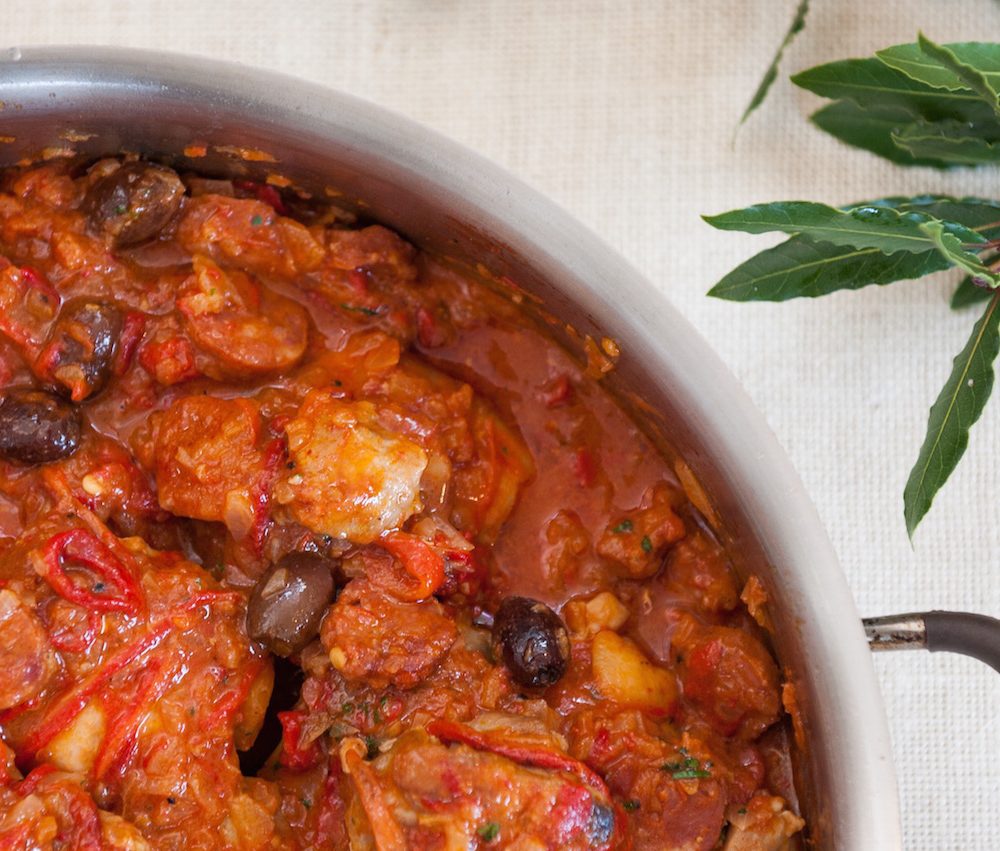 This chicken & chorizo braise is a lovely to recipe to double and freeze for an extra meal down the track. This will become a family favourite for sure.
CHICKEN & CHORIZO BRAISE
Prep: 20 mins
Cook: 40 mins
Serves: 4
Ingredients
20ml/1tbsp of olive oil
600g / 1¼ lb of chicken thigh fillets
½ red onion
1 clove of garlic
250g of chorizo (cured)
2 tsp of sweet paprika ground
150g of roasted red capsicum / pepper (in jar/from deli)
1 cup of tomato passata purée
100ml / ⅓ cup of white wine (optional)
300ml / 1¼ cups of water
4 sprigs of flat leaf parsley
8 kalamata olives
vegetables or salad to serve
crusty bread (serving suggestion)
Method
Heat oil in a saucepan and brown chicken in batches. Remove from pan and set aside.
Add onion and garlic to the pan, then add a little water to assist cooking and prevent burning. Cook for 5 minutes.
Add chorizo, paprika and [capsicum|red pepper] and cook for 3 minutes.
Add tomato [passata|purée], wine (if using) and water, then bring to the boil.
Return chicken to the saucepan. Bring back to the boil and simmer for 20 minutes.
Add parsley and olives. Stir to combine.
Serve with veggies or salad of your choice. Bread is also a great addition.
TIP
If you have a red capsicum/pepper in the refrigerator, you can use that instead of the roasted capsicum in the jar. The roasted capsicum imparts a nice flavour, but use up any fresh capsicum to avoid food waste.
Join our Dinner Done Challenge to get your meal planning sorted. It includes a free printable meal planner and shopping list template, recipes, tips and know-how to get you from zero to meal planning hero in just 25 days. 
The PlanBuyCook meal planning app includes more than 130 recipes you can scale to match your household size. Available for iPhone and iPad here.