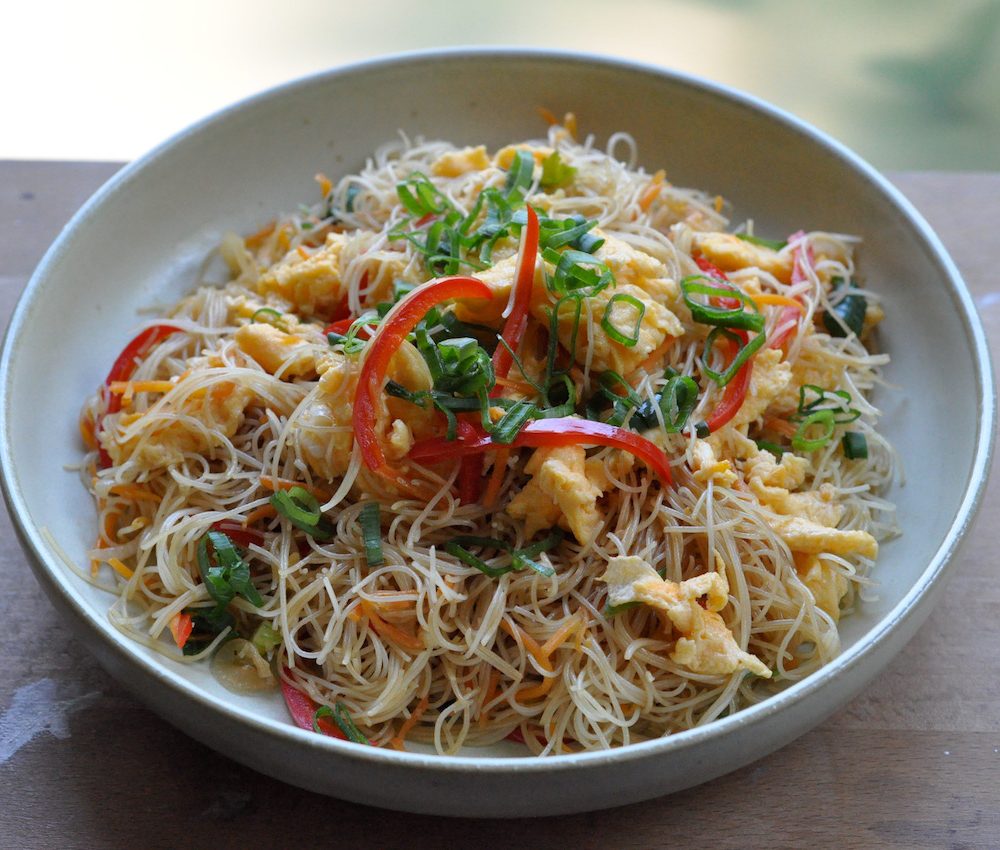 This fried vermicelli noodle recipe is a great way to use up leftover vegetables from the refrigerator at the end of the week. Ready in minutes, it is a super economical vegetarian dish that is perfect for a night when you are time poor. Look out: it will become your go-to quick dinner very soon.
FRIED VERMICILLI NOODLES
Prep: 10minutes
Cook: 10minutes
Serves: 4
Ingredients
240g/8oz of dried vermicelli rice noodles
2 eggs, lightly beaten
2 tbsp of olive oil
1 tsp sambal oelek or red curry paste
1 eschalot or ½ onion, finely diced
1 tsp of ginger finely grated
2 carrots, grated
1 red capsicum/green pepper, sliced
¼ tsp of turmeric ground
2 tbsp/40ml soy sauce
2 tbsp/40ml of water
2 tbsp/40ml sweet soy sauce (kecap manis)
1 spring onion/scallion, finely sliced
2 tbsp of crispy shallots or chopped peanuts (optional)
Method
Bring a pot of water to the boil and add the vermicelli noodles Cook as per packet instructions.
Strain in a colander and refresh under cold water.
Heat a large frying pan or wok, then add half the oil. Add the eggs then move them continuously with a spatula until cooked. Remove from pan and set aside.
Clean the pan or wok and heat the remaining oil. Add sambal oelek, eschalot/shallot and ginger and cook until fragrant.
Add carrots, capsicum (peppers), noodles, turmeric, soy sauce, water and sweet soy (kecap manis). Stir continuously until well combined, then add in the cooked egg.
Sprinkle with spring onion (scallion), crispy shallots or peanuts and serve immediately.
TIP
Use any dried noodles you have in the pantry for this dish. Just follow the packet instructions for cooking them and start at step 3.
Get meal planning with the PlanBuyCook meal planning app. Available at the App Store. 
Join our FREE Dinner Done Challenge to get your meal planning sorted. It includes a free printable meal planner and shopping list template, recipes, tips and know-how to get you from zero to meal planning hero in just 25 days.