Labne, or labneh as it is sometimes known, is a creamy form of yoghurt derived from straining the whey. Here we show you how to easily make it yourself, and what to do with it.
LABNE
Prep: 1 min
Cook: 24 hours for 'cream cheese', 48 hours for labne balls
Serves:
Ingredients
500g of greek-style yoghurt
1 tsp of salt (iodised)
Equipment
muslin or new open weave cloth (e.g. Chux super wipe)
sieve
large bowl
Method
Place the sieve over the bowl, then place the muslin or cloth in the sieve, allowing it to hang over the edges.
Stir the salt through the yoghurt, then drop the yoghurt into the centre of the cloth.
Fold over the edges to cover, then place in the refrigerator for 1–2 days.
After 1 day, you can use the labne for salads, with fruit or your favourite breakfast, or in dips, as as it is creamy and spreadable.
After 2 days when it becomes even firmer, roll the labne into balls and store in olive oil as part of mezze plate (antipasto).
Dispose of the whey in the bowl or drink it if you are feeling so inclined.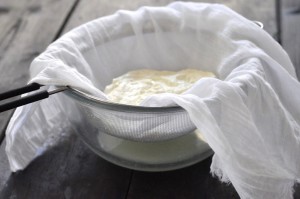 TIP
Labne is a great substitute for cream cheese after day 1. Add some sifted icing sugar and use on your favourite case instead of cream cheese frosting.