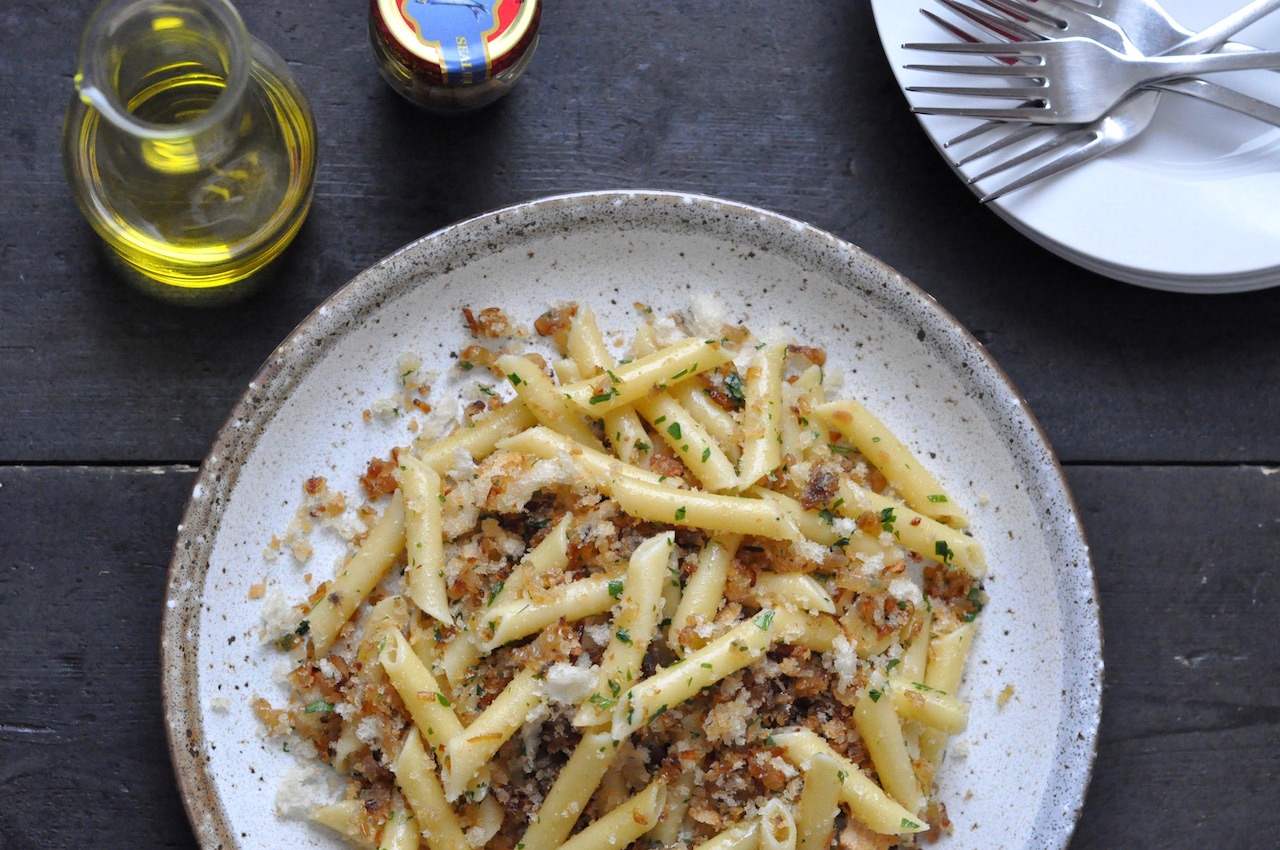 This is a classic Croatian dish, and is often served as a side dish served with grilled fish or salted cod. We  like it as a quick pasta meal served with salad. A perfect use for leftover bread or crusts to stop them going to waste. Spice it up with some chilli flakes or fresh chilli. 
PASTA WITH ANCHOVY BREADCRUMBS
Prep: 10 mins
Cook: 45 mins
Serves: 4
Ingredients
80ml / 4 tbsp of olive oil
1 brown (yellow) onion, finely diced
250g / 1/2lb of pasta of your choice (we used penne)
8 anchovy fillets, roughly chopped
1 tbsp of oil from the anchovy jar
2 cups of fresh breadcrumbs or panko breadcrumbs, coarsely grated
4 sprigs of flat leaf parsley, finely chopped
lemon zest
fresh red finger chilli (optional) or chilli flakes
Method
Heat the oil in wide-based frying pan. Add the diced onions and cook on a very low heat for 30–40 minutes, stirring occasionally, until they turn a deep golden colour. You may need to add a bit more oil if it is sticking.
In the meantime, cook the pasta as per packet instructions. Strain and set aside.
After the onion has turned golden, add the anchovies and anchovy oil, and continue to cook until the anchovies 'melt'.
Turn the heat up on the frying pan, then add the breadcrumbs to the frying pan, and stir until they become crispy and golden.
Add the parsley and lemon zest to the breadcrumb mixture, then toss the pasta with the breadcrumb mixture.
Serve immediately with salad and chilli, if using.
TIP
The key to the flavour is slow cooking the onion. Cook it for at least 30 minutes to get a rich flavour.
Join our Dinner Done Challenge to get your meal planning sorted. It includes a free printable meal planner and shopping list template, recipes, tips and know-how to get you from zero to meal planning hero in just 25 days. 
Get dinner inspiration from the PlanBuyCook meal planning app, available for iPhone and iPad here.