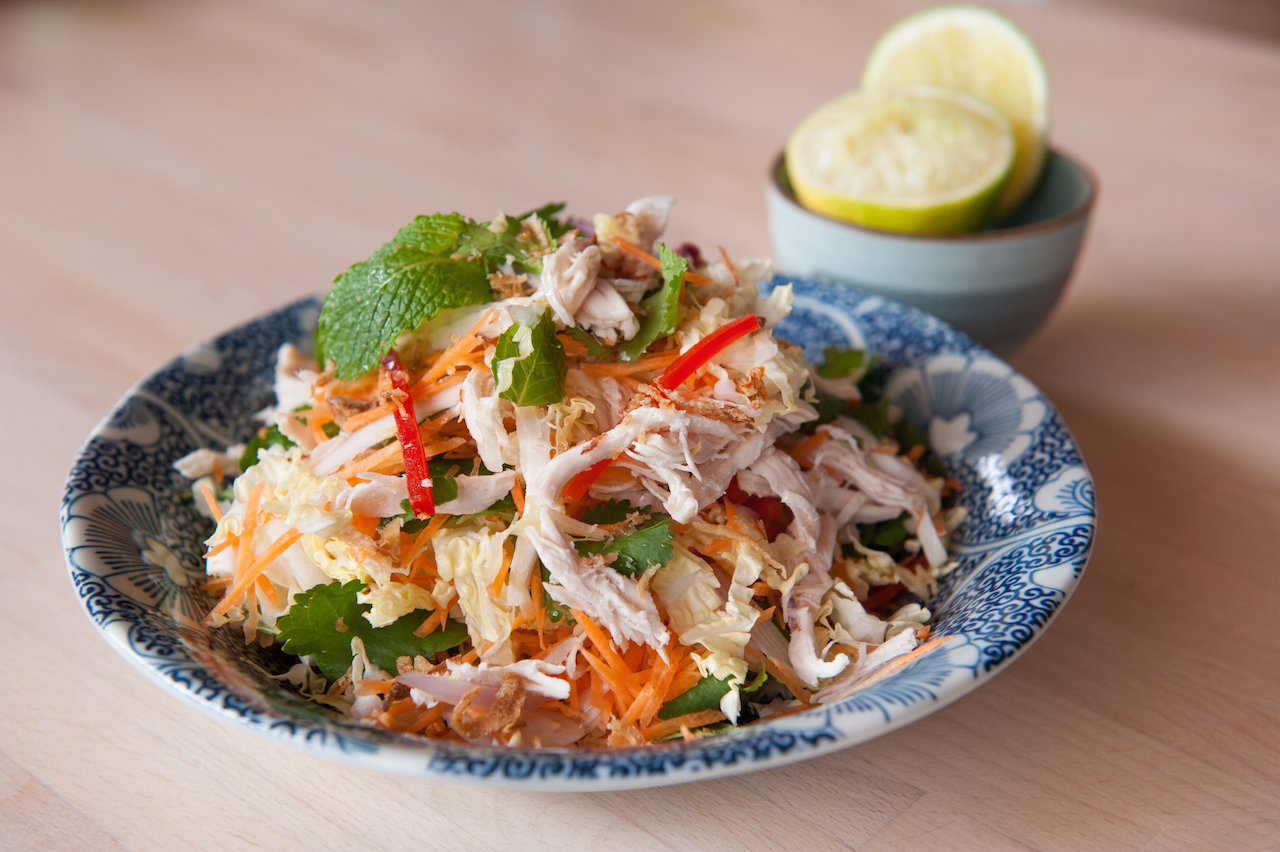 This Vietnamese chicken salad is the perfect salad to make with the leftovers in your refrigerator. Quick to assemble and super tasty, it is the perfect lunch or dinner in summer. Make plenty of the base dressing in advance and store it for months in advance, and simply add the garlic and lime to liven to the amount you need for the salad on the day.
VIETNAMESE CHICKEN SALAD
Prep: 150 mins
Cook: 5 mins
Serves: 4
Ingredients
400g / 14oz of chicken breast (or any leftover roast chicken)
½ bunch of fresh coriander (cilantro), keeping the roots for poaching
40ml (2 tbsp) of fish sauce
water
6 cups of wombok/chinese (Napa) cabbage, finely sliced
2 carrots, finely grated
1 eschalot (shallot), finely sliced
¼ bunch of fresh mint
½ red capsicum, finely sliced
1 pinch of dried chilli flakes
1 tbsp of crispy fried shallots
 Dressing
60ml (3 tbsp) of fish sauce, extra
120ml (½ cup) of water
60ml (3 tbsp) of rice vinegar
40g (2 tbsp) of caster sugar
1 tbsp of lime juice
1 clove of garlic, crushed
Method
In a small saucepan, placed the chicken breast, coriander roots, fish sauce and enough water to cover the chicken.
Bring to the boil, cover with a lid and simmer for 10 minutes. Leave the chicken in the liquid once cooked.
To make the dressing, mix additional fish sauce, water, rice vinegar, sugar, lime juice and garlic in a bowl, and set aside.
Put the wombok, carrot, eschalot, mint and coriander leaves (cilantro) in a bowl.
Shred the chicken breast and add to the salad then pour over the dressing,
Serve with dried chilli flakes and crispy dried shallots to taste.
TIPS
Multiply the dressing recipe (minus the garlic and lime juice) and store in the refrigerator. It will keep indefinitely. Add the garlic and lime when serving.
You can use fresh chillies (either seeded or de-seeded) instead of dried chillies. Store them in the freezer as they are easier to slice.
Join our Dinner Done Challenge to get your meal planning sorted. It includes a free printable meal planner and shopping list template, recipes, tips and know-how to get you from zero to meal planning hero in just 25 days. 
Meal planning is the best way to eliminate food waste. Buy the PlanBuyCook meal planning app here.