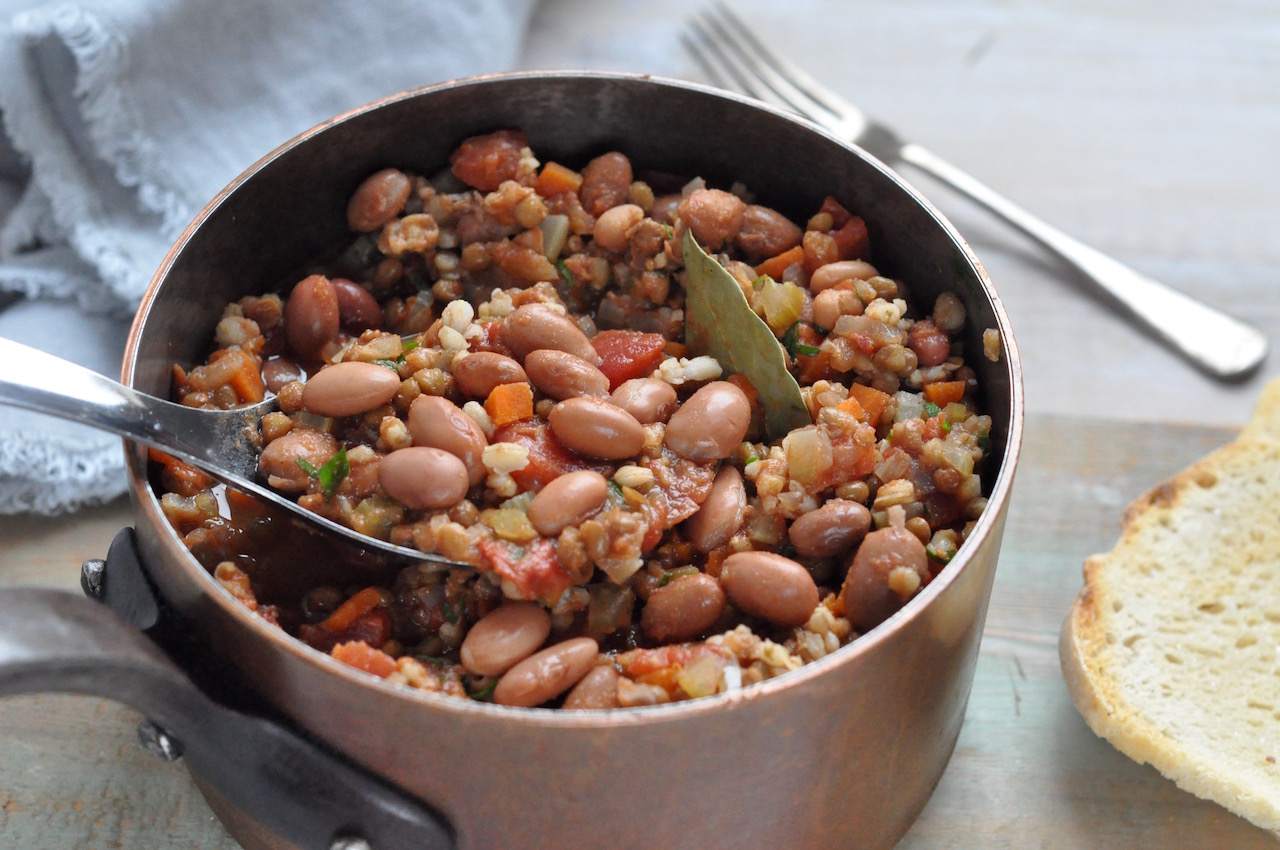 This week we are going #meatfree for our two recipes. This bean and barley braise is a great, filling vegetarian meal. Perfect served with some bread, yoghurt and chilli. Another great meal from pantry staples. Planning one pantry meal a week helps reduce food waste if you need to delay it. The barley in this meal bulks out the dish. If you are gluten free, substitute the barley with brown rice. Dinner done. 
BEAN AND BARLEY BRAISE
Prep: 10 mins
Cook: 45 mins
Serves: 4
Ingredients
1 tbsp/20ml of olive oil
1 onion, finely diced
1 clove of garlic, crushed or grated
1 stick of celery, finely diced
2 carrots, peeled & diced
1 tbsp of flat leaf parsley, finely chopped
1 bay leaf
½ tsp of cinnamon ground
1 tsp of cumin ground
1 tsp coriander ground
400g / 14oz of tinned lentils, drained & rinsed
400g / 14oz of tinned borlotti beans, drained & rinsed
400g/14oz of tinned cannellini beans, drained & rinsed
400g/14oz of tinned chick peas, drained & rinsed
800g / 28oz of tinned diced tomatoes
250ml / 1 cup of water
¼ cup of pearl barley
500ml / 2 cups of additional water or vegetable stock
pinch of salt
pepper
natural yoghurt (to serve)
pinch of chilli flakes
bread (to serve)
Method
Heat oil in a large saucepan and cook the onion, garlic, celery and carrots for about 10 minutes on a low heat.
Add the chopped parsley, bay leaf, cinnamon, cumin and coriander and stir until fragrant (about 2 minutes).
Add the lentils, borlotti beans, cannellini beans, chick peas, tomatoes and water.
Bring to the boil and then simmer for 40 minutes.
Meanwhile, boiling the additional water or stock, then add the barley and cook for 20 minutes.
Drain and rinse the barley, the add it to the bean mix and cook for another 5 minutes.
Serve with natural yoghurt, dried chilli and bread.
TIP
Make this dish gluten free by swapping barley for brown rice.
Join our Dinner Done Challenge to get your meal planning sorted. It includes a free printable meal planner and shopping list template, recipes, tips and know-how to get you from zero to meal planning hero in just 25 days. 
Get great meal ideas from the PlanBuyCook meal planning app for iPhone and iPad. Go to www.appstore.com/planbuycook for details.