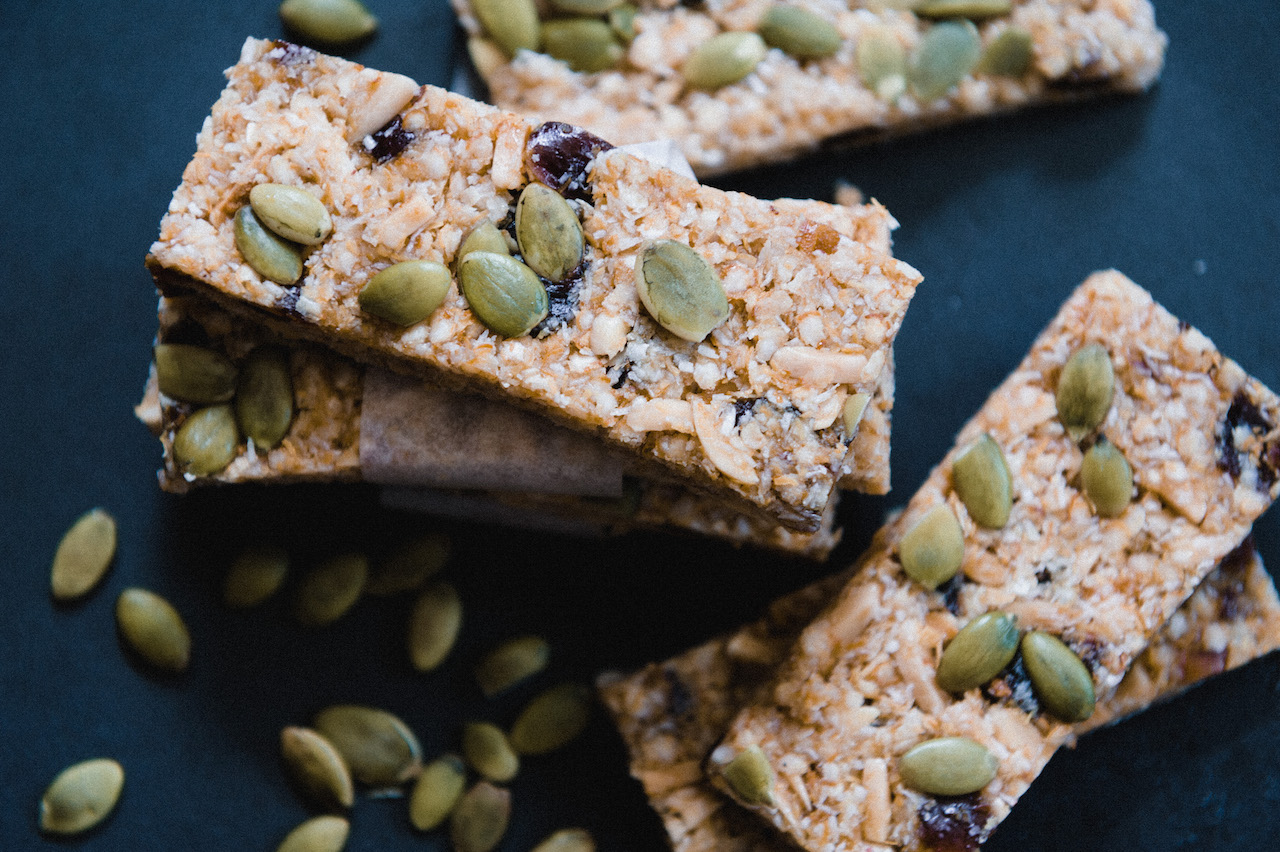 These great no-cook muesli bars are packed with seeds – perfect for lunch boxes or snacks. They are also FODMAP friendly.
QUINOA MUESLI BARS
Prep: 5 minutes
Cook: 10 mins plus 1 hour setting time in fridge
Makes: 12 bars
Ingredients
¼ cup almond slivers
¼ cup sunflower seeds
¼ cup pepitas
1 cup quinoa flakes
½ cup of desiccated coconut
1 pinch of salt (iodised)
4 (70g) of dates, chopped
½ cup rice malt syrup
Method
Preheat oven to 160ºC / 325ºF / Gas mark 3.
Place baking/parchment paper on 2 baking trays, and place the seeds and nuts (almond slivers, sunflower seeds and pepitas) on one tray, and the quinoa flakes on the second tray.
Place in the oven and cook for 5–10 minutes until they turn a light golden colour. Once cooked, removed from oven and leave to cool for 10 minutes.
Meanwhile, in a bowl mix the coconut, salt, dates and rice malt syrup.
Add the seeds, nuts and quinoa to the bowl, and mix thoroughly.
Line a 20cm x 20cm tray with baking/parchment paper, and then press the mixture into the tray. Cover the top of the mixture with cling film and press firmly into the tray to give a nice flat surface.
Place the tray in the refrigerator and allow to set for an hour.
Remove, trim edges and then cut into 12 bars.
TIP
These bars also freeze well.
Join our Dinner Done Challenge to get your meal planning sorted. It includes a free printable meal planner and shopping list template, recipes, tips and know-how to get you from zero to meal planning hero in just 25 days. 
Get great meal ideas from the PlanBuyCook meal planning app. You can scale the recipes to match your household size, or add your own favourite recipes.