Learning to cook eggs is a great skill to keep you powered up with protein. Poached, fried, scrambled or boiled: they are a great start to the day. Here Jen tells us how to cook perfect eggs four different ways.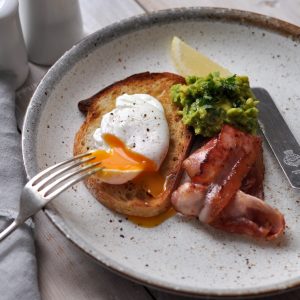 POACHED EGGS
Bring a saucepan or frypan of water to the boil then add a teaspoon of vinegar. Stir the water to create a whirlpool. Break the eggs into individual ramekins, being careful not to pierce the yolk. Drop them into the boiling water one at a time, and then just before the water comes back to boiling turn the heat to medium. Once they float to the top they are ready to remove. Remove with a slotted spoon and drain on paper towel, before placing on toast.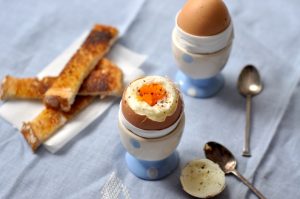 BOILED EGGS
You may like a soft boiled egg or perhaps you like your eggs hard boiled. It all comes down to the cooking time. Bring a saucepan of water to the boil. Carefully place the eggs, one at a time, into the saucepan using a spoon. Cook them for 4–5 minutes for runny eggs, about 7 minutes for soft-boiled eggs, and 9 minutes for hard boiled eggs. Time will vary depending on whether the eggs are from the refrigerator or at room temperature.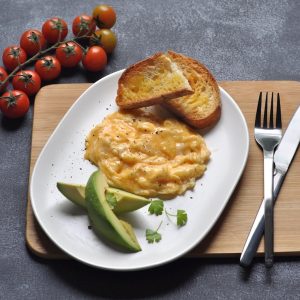 SCRAMBLED EGGS
For a quick scramble, melt 20g of butter in a non-stick pan on a high heat. Whisk two eggs and 3 tbsp/60ml of milk together. Pour egg mixture into the hot pan once the butter is bubbling nicely. Leave for about 20 seconds, then stir with a silicone spatula. Leave for a further 20 seconds and then stir again. Cook eggs for a further 20 seconds or until cooked to your liking. Serve immediately with sourdough, salt and pepper and other accompaniments.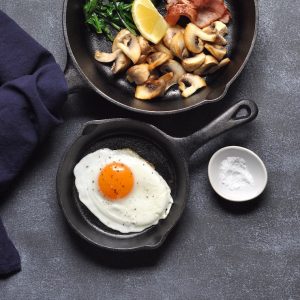 FRIED EGGS
To fry eggs, heat a frypan over high heat. Add some oil or butter to the pan. Break the eggs into the frypan, turn down the heat, and sprinkle with a bit of salt. Cook to your liking, spooning over some of the oil to cook the top of the egg.
Eggs any way are great served with toast (soldiers for boiled eggs), smashed avocado or wilted spinach, sautéed mushrooms, and bacon. Good for a breakfast or a super simple dinner once a week.