Having a good repertoire of meals which use minced meat (ground meat) makes it easy and cost-effective to cook in bulk. The Italian meatballs use a mix to pork and veal/calf mince, which adds a nicer flavour. Use beef mince (ground beef) if you can't get pork and veal. It is generally available as a mix at the supermarket. This week we are doubling the Italian meatballs and the Beef stroganoff. We are also using some food banked meals from week 22. This reduces your cooking load to only 3 meals from scratch this week, plus some sides, a leftovers meal and simple meal on Sunday night. 

MEAL PLAN #24: AUTUMN/FALL
Monday – Italian meatballs. Recipe on the app. Double and freeze half. Serve with pasta and green salad. They are great on a sandwich or in a baguette the next day for lunch with some rocket/arugula.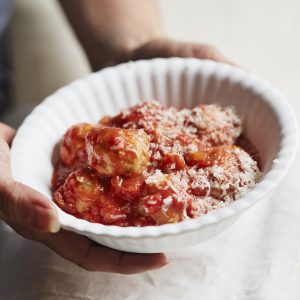 Tuesday – Beef stroganoff. Double and freeze half. Recipe on the app and the blog. Serve with mashed potato and steamed greens.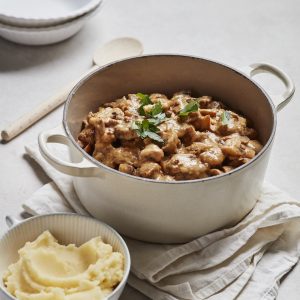 Wednesday – Portuguese chicken. Recipe on the blog. Serve with coleslaw or a cabbage salad. Ask your butcher to butterfly the chicken for you.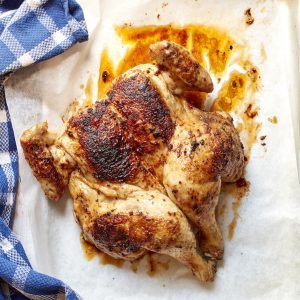 Thursday – Pesto from freezer from week 22. Serve with your favourite pasta.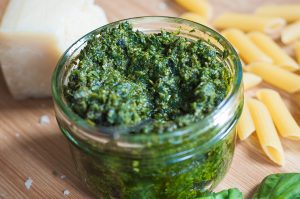 Friday – Leftovers / dining out / takeaway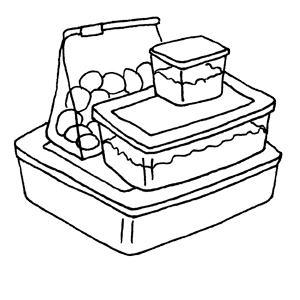 Saturday – Lamb curry from freezer from week 22. Reheat curry while steaming the rice. Recipe on the app. Double recipe if making for first time.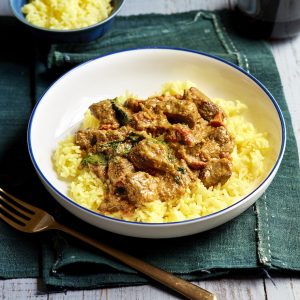 Sunday – Super-simple meal night. Think about eggs on toast, baked potatoes, lebanese pizzas or toasted sandwiches. We do an easy mix of passata topped with mozzarella when really pressed, but you can always cook a little garlic and oil with some tinned diced tomatoes to give the tomato base a little more flavour.
Snacks: Choc chip weetbix slice – recipe on the app and the blog.