The English tradition of high tea has become a great way to celebrate a special occasion with friends. However, at most five-star hotels it does not come cheaply. How can you and your friends enjoy a 5-star occasion on a 1-star budget? PlanBuyCook shows you how.
HIGH TEA
The key ingredients for a top-notch high tea are:
You can always add extras such as mini pies, quiche, sausage rolls or hot ingredients, or even go all out with a feature such as a chocolate fountain with marshmallows and strawberries.
PlanBuyCook hosted a high tea for my sister-in-law's 40th birthday recently. A quick look on the net showed it would cost around $55 a head for a catered function for the food alone. With a guest list of over 40 people we were pretty sure we could better this.
Finger sandwiches
The real find was a great article in goodfood.com.au with The Hotel Windsor's finger sandwich selection. The Hotel Windsor is a 5-star hotel in Melbourne that oozes tradition and charm. This timely article was fabulous as it gave us a guide to five types of sandwich fillings, which we did all five.
The best tip is to ask your baker to run the bread long ways through the bread slicer so you have long slabs of bread to work with. We needed to go to a few bakers to find one that would do it, so it may be a good idea to check well in advance if your local baker will do it rather than panicking on the day!
We made all the fillings or mixes the night before so that we only had to assemble them on the day. Stacking the sandwiches with one type on top of the other will give you a lovely selection all cut through at the same height.
Using an electric knife makes cutting sandwiches a dream. Borrow one if you can, as it makes a big difference and helps the sandwiches retain their shape.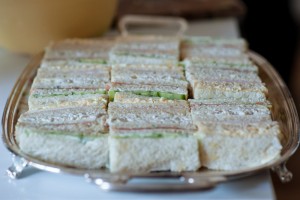 Sweet treats
You can cheat and buy the petit fours and macarons, or you can make your own. For this party, we bought them in but if you have the time you can make your own. See our recipes for chocolate eclairs, brutti ma buoni or lemon curd tarts for some DIY inspiration.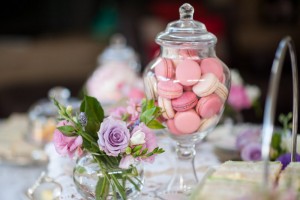 Scones
A high tea requires scones, so you can make either plain ones or fruit scones, or a mixture of both. Offer butter, jam and cream for toppings on the table.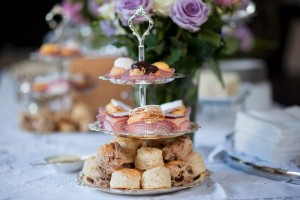 Savoury
You will often find savoury items such as mini meat pies, tartlets/mini quiche or sausage rolls as part of a high tea. The quickest way is to buy these in, but again if time permits, make your own. Heat the oven before the event starts so you can have them ready to go when people arrive.
Tea selection
If you have a large number of people, borrow an urn as it makes tea making a breeze. Have a nice selection of tea bags so people can choose something a little more interesting than standard tea flavours. A lovely milk jug is mandatory.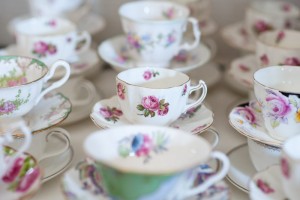 Decoration
Doilies, silverware, eclectic tea cups, dainty napkins, tiered cake stands and crystal – basically everything from granny's house – make for perfect styling of a high tea. Borrow tea cups and mix and match them to make your own crazy tea set. Gather plenty of side plates, as people often use separate ones for savoury and sweet items. Raid granny's silverware for cake forks. Pretty flowers will round out the decorative elements. We used pastel and white roses in white and glass jugs. Opt for flowers in full bloom.
Allow yourself a good half hour to decorate the table. Turn the urn and the oven on. Keep the sandwiches covered until the guests arrive and enjoy the day.