Holidays are a time for quick meals. Spending time at the beach rather than slaving over a hot stove is the order of the day. No doubling of meals this week, as there is no room in the holiday freezer. If you are having a staycation, consider doubling the felafel and beef fajitas. Enjoy.
MEAL PLAN #10 – SUMMER HOLIDAYS
Monday – Spaghetti aglio, olio e pesce. Recipe on the app and on the blog.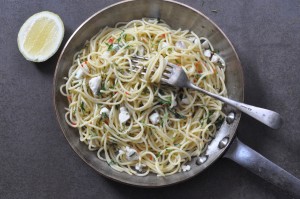 Tuesday – Falafel. Recipe on the app and the blog.
Wednesday – Beef fajitas. Use a store-bought chipotle in adobo sauce (puréed) to marinate blade or rump steak. Slice into strips and BBQ. Serve on wraps with corn, avocado, tomato or black bean salsa. If the kids are eating it, you may want to use less. We use about 100g (3 oz) to 500 grams (1 pound) of meat for 4 people. Freeze the excess sauce for use another time. Double meat marinade and freeze half if you wish.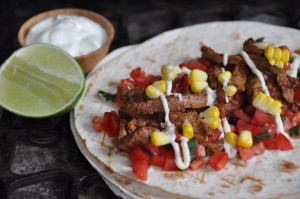 Thursday – Chicken and corn balls with steamed rice and Asian greens. Recipe on the app. Also great served in iceberg lettuce cups.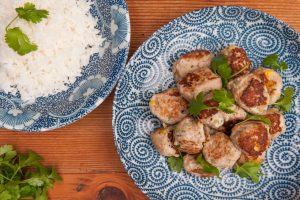 Friday – Leftovers or fish and chips on the beach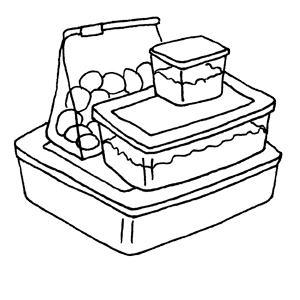 Saturday – Sausages and mash with green salad. Recipe on the app and the blog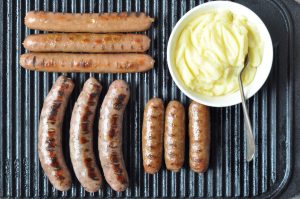 Sunday – Sardine and white bean salad. Recipe on the app and the blog. I serve it with leftover roasted sweet potato and any random antipasto in the refrigerator to give it a bit of bulk.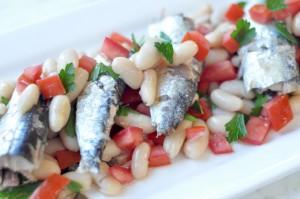 Snacks – Kids are making banana smoothies regularly to keep themselves cool. Recipe on the blog.